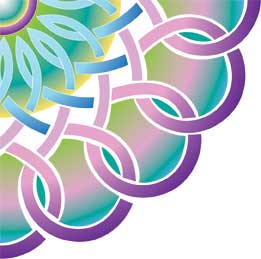 The most astonishing thing happened! As you know, I have been privileged to be the transmitter of the Cosmic Times since 1994. It has come in a variety of forms, but for the past 13 years, it has consistently been coming through every other month. The most recent issue came in June, meaning that the next issue would be in August.
But this last weekend, the last weekend of June, the six members of the Ascension Council insisted on sending through an additional Cosmic Times for the month of July! They were adamant about the need for everyone to hear what was happening in the world. They said that so many immense things were going on, that we all absolutely needed to know, so that we could align our energies with the larger currents, and understand how to flow with unfolding events.
That there should be this unexpected and additional Cosmic Times tells us what an extraordinary time this is. And we certainly can feel it! I wouldn't call the last couple of weeks easy or gentle! It seems more as though we are being knocked left and right, battered and thrown, and generally overwhelmed by the tumult and chaos of our lives. Someone told me that she felt like she was being "drawn and quartered" over this last month, and I think we can all relate!
Well, this surprise issue of the Cosmic Times addresses all of this, answers all the prime questions we have right now, is uplifting and inspiring, and offers us suggestions for finding our way through these enormous energies. I thought the June issue was crucially important for all of us to read — but this July issue is really extraordinary!
I want so much for you to have this information! I know that it's a big commitment to subscribe to a year of the Cosmic Times — but this one surprise issue is so significant, that I thought you might be interested in signing up for this one just on its own.
You can receive this issue for just $5!
And if you find that it was valuable to you, and you want to get all the rest of the issues, that $5 will apply toward the rest of the subscription fee for an entire year. To receive this July issue, click here. I'll be so interested in hearing what you think of all of this! See you in a couple of weeks.
Much Love,
Ellen