Pin It
Solar Flares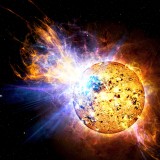 WOW!!!  That's about all that can be said at this point.  WOW!!!
Remember, there are no coincidences.  So this larger-than-ever solar flare is hitting Earth at just the time when everything is cracking and falling away. A solar flare impacts Earth's
electro-magnetic field, setting up massive waves and wobbles.  Our physical bodies run on electro-magnetic energy.  Our emotional bodies run on magnetic energy.  An enormous solar flare wreaks havoc on both our physical and emotional bodies. 
So — whatever is an "issue" for us at this time — be it physical or emotional — no matter how big or small it is — is being magnified and amplified to mammoth proportions — to the point where it looks like it has the capacity to take us down.
So many many people we know are, right now, in the hospital or the mental hospital, with very sudden, mysterious melt-downs, in which their emotional bodies or physical bodies (or both) have completely, almost overnight, given way, deteriorated, and fallen apart — and these folks are, or seem to be, fighting for their lives.
Whatever is going on for us is, over the last several days, so exacerbated, as to seem to threaten our very existence.  This solar flare is blowing up anything we haven't quite attended to yet, into giant monsters that terrify and overwhelm us.  Since Thursday, I have gotten close to a dozen emergency phone calls from people who are suddenly so overwhelmed by the challenges of their lives, that they are feeling like giving up.
The monsters are so big, we have no choice but to pay attention. This is a great opportunity to finally see even the little pieces (that are now blown way up) that have perhaps been trying to get our attention, and figure out how to take even better care of ourselves. Our denser, 3-D skins are ready to crack and fall away.  This solar flare is supporting that molting, shedding activity.  We've already done the big work — maybe all that is being asked here is that we let those old skins go, shake them off, and free ourselves from them.
The other reality here is that these monsters are not necessarily real.  The August edition of the Cosmic Times is coming out in a couple of weeks (!!!) and we will find out what to do with these "monsters," and the holograms that they actually are.
To make sure you get your copy, run and click HERE, and subscribe.  You will not only receive the August edition, but in the meantime, as a special gift to you in these crazy times, you will also get the 2 previous editions from April and June, so you are caught up on what is happening, and can "hit the ground running" with the August copy.
It will be fun to see what happens over this next week, as the solar flare begins to calm down.  Where will you be??  See you next week.
Much Love,
Ellen
Share