Pin It
Warp Speed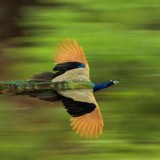 Aren't we right in the middle of the most remarkable rush of activity maybe we have ever experienced?  Don't you feel as though you are moving at warp speed, and that's still not fast enough?  Hang on and keep breathing, because we are moving toward a quieter place in this wildly rushing white water, where we will be able to catch our breaths (if just for a moment), and get our bearings, before we once again head out into the mad wash.
The Summer Solstice is coming.  The Light is bigger than at any other time of year.  We will pause momentarily and let it shine on our lives.  And what it will illuminate for us is why we have all been madly dashing about.
So many of us, right now, are coming to that place inside of us that demands that — finally — we know who we are, and what we are about, and why we are here in body walking this Earthplane, and what we are being called to do and to be.
We are running like crazy people because we are, in a variety of ways, getting ready — to know, to see, to become, to dare, to open, to learn, to listen to our hearts, and follow our callings.  And the huge Light at this time of year is here to illuminate our lives and show us the ways.
Next week we will hear about why now, and how it all fits together with everything else.  In the meantime, please, if you haven't, grab a copy of the June edition of the Cosmic Times, and work on closing all those open loops.  You can get your copy of the cosmic Times, by clicking HERE
We are so on our way!!!!  See you next week.
Much Love,
Ellen
Share