Pin It
The Sweetness of 5-D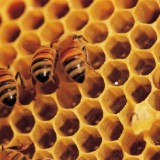 A few months ago, we were eating pretty well, we were getting the sleep we needed, and we were exercising in ways that made us feel good.  We could feel our vibration raising, and we were eating foods that were lighter and less dense.
For the past several weeks (at least), we have not been exercising as we know we should be, and our eating is pretty much out of control.  We are perhaps back to eating pretty dense food, and our cravings are taking over our lives.  Perhaps especially when we should be going to sleep, we find ourselves instead, in the pantry or refrigerator, wanting to consume – or consuming – the sweetest, fattest, yummiest things we can hopefully conjure up to sink our teeth into — and it still doesn't do the trick, it still is not satisfying.   So we are fat, unsatisfied, and not getting enough sleep!  What's going on here?
We are not craving sweet yummy foods — we are craving the sweetness of 5-D!  We are ready for quantum living.  And so even the most delicious dessert will not satisfy these cravings!
We are seeing this in hundreds of different ways:  Are things just disappearing into seemingly thin air?  Are you suddenly incapable of simple typing (and many other linear things you normally do without even giving it a second thought)?  Are you becoming less and less linear?  Are you falling and tripping, and being dizzy and sick?  Are your dreams becoming more vivid, more significant?  Are you shying away from conversations that include a lot of mundane or negative information?  We are craving 5-D!
The more we crave 5-D, the more worried we may feel about staying on this Earthplane.  So we eat dense foods, and become heavy enough to  stay "Earthbound."  At the same time, we are so hungry for "lift-off" that we find ourselves retreating from 3-D in big ways.
The good news is that 5-D is "landing" here on Earth, and Earth is slowly moving into 5-D Consciousness.
To find out what to do with all of this, and how to successfully live in all of this, please sign up for the Cosmic Times, in which you will find the answers.  If you do, the next edition of the Cosmic Times, (with all the answers in it) will be in your email in 3 weeks.
Hint #1:  We are the vehicles for the melding of 5-D and 3-D.
Hint #2:  And what if we can be in 3-D, but not of 3-D?
Much Love,
Ellen
Share