Pin It
A New Soul is Born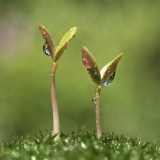 Dear Ones,
Such an event has occurred in our world!  Last week, you may have felt as though you had awakened to a whole new world.  Perhaps you felt an enormous shift, or knew you were experiencing a brand new reality.  Or maybe you just felt incredible grief, or sadness or deep depression — perhaps mixed in with a deep bubbling anticipation, or even joy!  Many of you spent several days weeping, and many of you felt the intense pain of being rubbed raw inside.  What is this all about??
Beginning on August 7th, peaking on Monday night August 8th and Tuesday morning August 9th, and completing on August 10th, your Cosmos birthed a new soul!  If indeed, you woke up on Wednesday and didn't know where you were, and realized you were in a whole new world — that was absolutely correct!
Imagine that there are 12 Dimensions that make up a World.  And there are 12 Worlds that make up a Cosmos.  And there are 12 Cosmoi that make up a Rakiah.  And so forth.  You, Human Being, find yourself at this time in the Third Dimension of the Fourth World of the Fifth Cosmos.  And your Cosmos birthed a new soul.
At this time of huge transition, it is true that souls come and go.  In the old days, in the extremely rare case that a person's soul departed and a new one came to take its place, the person sometimes experienced such a severe illness that the community thought the person might die — and perhaps did big sacred rituals, like changing the person's name, in order to fool the Angel of Death.  This was actually appropriate, because when a new soul came, the person's entire personality and life and world were about to change in huge ways.
If this is so for a small Human Being, you can only imagine the enormity of the shifting that occurs when the soul of the entire Cosmos changes!
You will remember that the soul carries all the history of all the experiences of being incarnate.  And so a soul leaves and a new one comes to take its place when the path is about to change, and a different set of experiences and accumulated wisdoms become necessary for the next stage of development that is about to be. And so, souls always come and go according to  previously agreed upon contracts.
There is never a birthing without a deathing.  The two have to go hand-in-hand.  And even though the birthing of a new soul is extremely joyful, it also means that this being is forever changed and will never be the same again.  And so the birthing of the new being means a deathing of the old being.  And indeed, whenever there is a soul birthing, it is accompanied by joy and anticipation, as well as grief and depression.
All you can know about this new soul of your Cosmos is that it is committed to Peace.  And of course what that means is that as this new soul embodies and expresses itself more and more, that which is not about Peace will arise for release and transformation.  You saw it begin immediately upon the heels of this birthing:  Your economic markets plummeted.  Your economy is based not upon Peace, but upon conflict.  This will now have to shift.
Our world is now forever changed and transforming.  The effects of this are at this time, unimaginable.   It is for all of us to nurture it and to enjoy!
To find out about all of this, be sure to pick up a FREE copy of the Cosmic Times.  To subscribe, please CLICK HERE.
Share